Functional Nutrition Coaching
Hi, I'm Tina, and I help busy professionals who are ready to take back their digestive health with whole foods, education, and lifestyle changes.
Having gut issues like IBS, gluten-sensitivities, celiac, migraines, acid reflux and more, can profoundly affect your daily life. I want to help you sit in the driver's seat of your wellness.
You're looking in the right place if you
want your energy back
want clarity on what's going on in your digestive system on a cellular level
are afraid of moving too far from a bathroom
want to discover what foods will help you thrive, not wallow in pain
Maybe you're wondering how these digestive issues crept up on you in the first place. Your detailed timeline through our In-Depth Client Intake Form will help you to see how triggering events can add up over time.
It took a while for your digestive issues to reach this level of pain, and it may take some time to see improvements. A quick fix is usually not realistic for getting to the root of your gut healing.
However, learning about your digestive system is empowering. Discovering what foods are healing to your unique body can make all the difference between gut-wrenching pain and being able to go out with friends without worrying.
I use a whole foods, and lifestyle approach to create your personalized roadmap to health. As a functional nutrition practitioner and professional cook, I have the tools to help you navigate toward your wellness goals.
You'll have a better understanding of how real food fuels your body and how processed food fuels your illness. You'll begin to connect your produce section, organic if possible, in your grocery store with your healing.
We live in a toxic world. Our wheat today looks nothing like the wheat our grandparents ate. It's not your fault that your digestive system is suffering. Food additives, high fructose corn syrup, artificial flavorings, and pesticides disturb not only your digestive system, but hormones, and your nervous system as well.
You'll learn how to detox your home, and choose healthier skin products too.
Together we'll work toward reaching your health goals for:
Heartburn relief
•
Better digestion
•
Improving sleep
•
Maximizing energy
•
Kitchen confidence
Functional Nutrition Coaching Packages
To look for the root cause, It's important to learn your complete health history, which involves more than what you're eating. It includes past environments, family history, stress level, relationships, antibiotic use and so on. Our sessions build on this information after I lay it out on a functional timeline.
In-Depth Intake Form
$150 investment
Here's how it works:
During our scheduled 90-minute session, we'll review your answers and choose a health coaching package based on your goals, budget, and time frame. I look forward to helping you on your wellness journey.
Please contact me if you have any questions about your initial investment for your In-Depth Client Intake Form REVIEW sign up process.
Session Options
After your timeline is filled out, we begin our sessions based on that information.
1 (50-minute) session for $100
4 sessions for $400 with a 3-month expiration date
8 sessions for $800 with a 5-month expiration date
12 sessions for $1200 with a 7-month expiration date
Gather and Review
This is Part One of the paid review session.
First complete the In-depth, Client Intake Form. This is how I learn about your medical and family history, food issues, lifestyle habits, childhood experiences and environmental triggers. Basically, your unique life story.
Next, schedule a 90-Minute Review Session to review your information over the phone or online via zoom or Skype.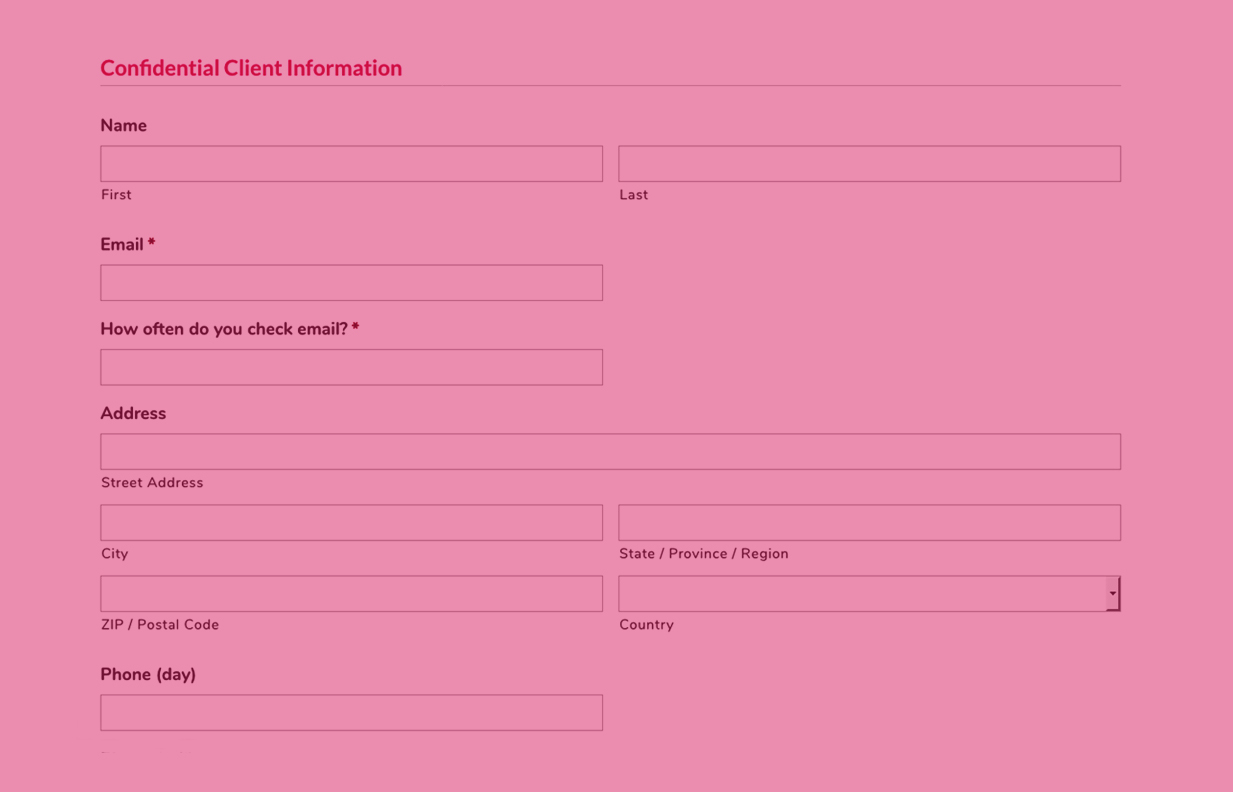 After Your 90-Minute Review Session
This is Part Two of the paid review session.
Once I've gathered all the information to begin our sessions, you'll receive:
A PDF of your timeline with your information organized and editable for updates as we move forward.
A Functional Nutrition Matrix that captures your symptoms and concerns throughout the systems in your body based on your Client Intake Form. Our health coaching sessions will be based on your information plotted on the matrix which will help me to know where to begin.
We'll also take note of any lab work you may have had done in the last 6 months.
We'll discuss your goals and steps to begin moving toward them.
You can share this timeline with your doctors too!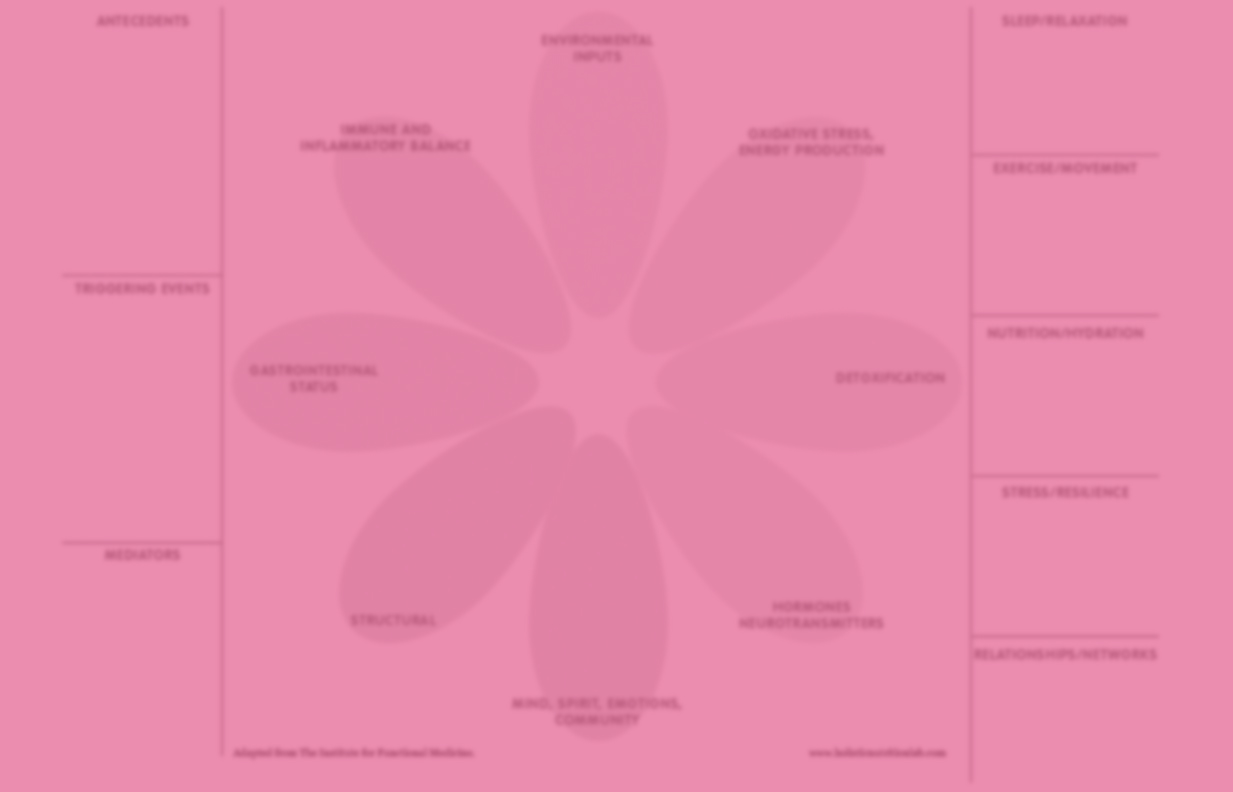 We'll work on together on:
Understanding how your digestive system works
Tracking food intake initially and when needed
Improving your sleep quality
Supporting lifestyle changes
Balancing blood sugar
Improving your immune system
Exploring sources of inflammation
Kitchen confidence and healthy recipes
Exploring healthy fats
Environmental triggers
Nutrient deficiencies
"Let food be thy medicine and medicine be thy food."
— Hippocrates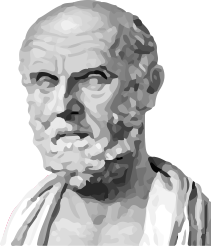 How Health Coaching Works
The first step is to schedule a free 15-minute conversation to answer quick questions, discuss your goals, and see if working together is a good fit.
Benefits of Working Together
Through my coaching sessions you'll:
learn why sufficient micronutrients are vital in keeping your body running smoothly
see healthy fats in a new light
become aware of environmental toxins and how to eliminate some in your home
discover how to avoid spikes in blood sugar levels
understand why with self-care you shouldn't put yourself last
discover how amazing our bodies are
begin to sit in the driver's seat of your health
I'll guide you to take better control of your health through diet and lifestyle with small, actionable steps.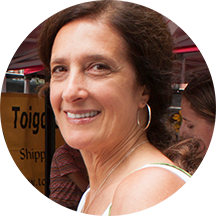 Health Coaching is for you if:
You want to take an active role in your wellness
You're willing to implement food and lifestyle upgrades
You're tired of dragging through each week with low energy
You're curious to learn more about the physiology of what's going on in your body
You want to learn great cooking tips from a Culinary Nutritionist and personal chef
You're up for the adventure 🙂
Health Coaching is NOT for you if:
You want a quick fix (I do understand that!)
You're unwilling to change lifestyle habits
You don't want to learn about whole foods, herbs, and superfoods
"Today more than 95% of all chronic disease is caused by food choice, toxic food ingredients, nutritional deficiencies, and lack of physical exercise." – Mike Adams
Are you ready to start your wellness journey? Let's start the conversation.

Disclaimer: The information provided on my website, and through my services are for coaching and educational purposes only. It is not intended to replace professional medical advice from your family practitioner or team of medical doctors. Any recipes, information, and links to articles are intended as a sharing of knowledge and experiences from Tina Malonis, Health & Lifestyle Coaching and The Tasteful Table Personal Chef service.